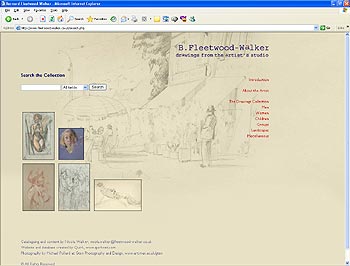 PRESS RELEASE

B. Fleetwood-Walker: drawings from the artist's studio
An on-line collection of drawings
Launched 26 January 2007

The launch of the on-line collection coincides with an exhibition focusing on works by Fleetwood-Walker from the 1930s at Wolverhampton Art Gallery (20 January 2007 – 7 July 2007).

Catalogued by Nicola Walker, the granddaughter of the artist and made accessible by website and database designer Chris Quirk, B. Fleetwood-Walker: drawings from the artist's studio is a survey of the remaining contents of the artist's studio representing working drawings from all stages of his career.

"Having looked around to try and find off-the-shelf software to handle the collection we found that nothing commercially available was suitable. The database, which was created and developed by Chris Quirk especially for this purpose, is a simple but extremely effective system capable of handling any size of image archive. It is PC based via a single spreadsheet and a web based database into which all data transfer is automatic; customisable scripts read all the data and present the information in a user friendly way and can generate answers to any number of queries. The user can view images and their details by category, keyword searching, or any number of characteristics, for example, date, medium, support, or watermark. The raw database system is now commercially available and would be suitable for the management of and access to a range of similar image and text-based collections."

Whilst examples of Bernard Fleetwood-Walker's finished work in oils exist in both public and private collections in the UK and abroad (including Birmingham Museum and Art Gallery, National Museums Liverpool, The Royal Academy, Museum of New Zealand Te Papa Tongarewa), the on-line drawings collection provides an opportunity to study the development of his style from thumbnail ideas, through loose sketches to worked-up studies.

Fleetwood-Walker was born, educated and worked for most of his life in Birmingham, studying at the Birmingham School of Art and Crafts, as well as in London and under Fleury in Paris. Having served in France as a sniper in the Artist's Rifles during WW1 he returned to Birmingham to teach, firstly at King Edward's Grammar School, Aston and then, from 1929 as a gifted, and influential lecturer at the Birmingham College of Art.

He worked prodigiously during this time, exhibiting at the Royal Academy from 1925, developing his abilities as a practising artist and quickly gaining a reputation not only as a painter of portraits and children but also for the large figurative paintings of the 1930s, many of which are now in public collections. He was elected an Associate of the Royal Academy in 1946 and a Royal Academician in 1956; a member of the Royal Watercolour Society, the Royal Society of Portrait Painters, the Royal Institute of Oil Painters, the New English Art Club and elected President of the Royal Birmingham Society of Artists in 1950.

Having been trained at a time when strong drawing and a high level of technical skill was the pre-requisite of a successful career, he excelled as a draughtsman -the on-line collection of over 900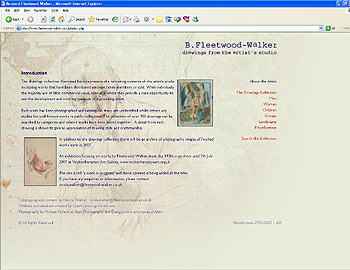 drawings demonstrates the range and diversity of his skills in many media, as well as providing a rare opportunity to see the development and working methods of a practising artist. Each work has been photographed, catalogued and is accompanied by a detail to give an appreciation of drawing style and craftsmanship.
Nicola Walker says, "Whilst the artist's two sons practised as architects, I am the only family member of my generation to work within the arts and it seemed tragic that his studio collection should remain outside of the public domain. With the current revival of interest in art and artists of the 1930s, now is an opportune moment to launch the on-line database. I very much hope that it serves as a valuable resource to researchers at any level and an inspiration to anyone else with responsibilities for a similar collection".

Access the archive at www.fleetwood-walker.co.uk